Front-end Development for S7 Airline website
Full-fledged front-end development for selling and cross-selling air and ground travelling services
Integration with third-party suppliers
Multi-language support
Fully customizable and intuitive interface
Flexible booking flow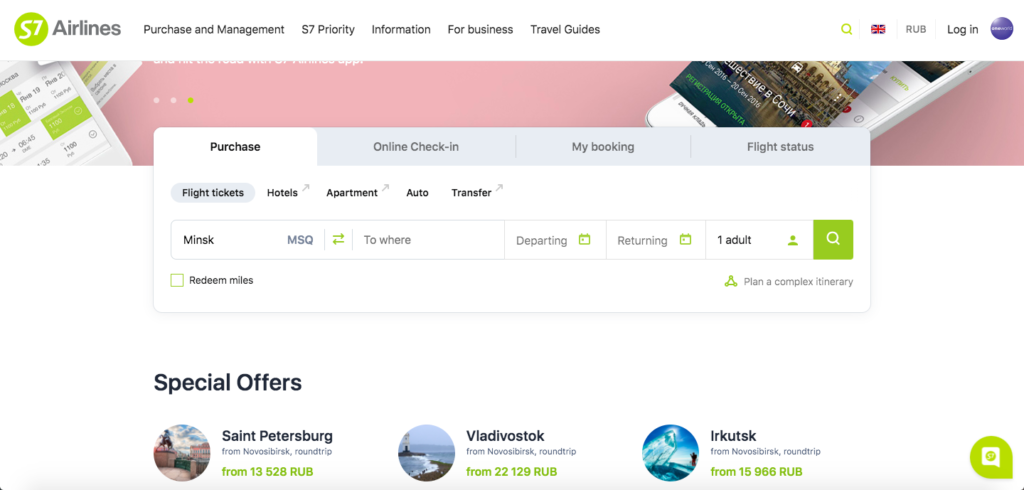 The client, S7, is the leading Russian airline cooperated with Resliv, where our company delivered comprehensive web-site and full-circle services from business analysis and up to support.
The airline needed a customizable ticket distribution platform that would include integration with third-party suppliers for all-inclusive journey planning and booking (counting hotels, transfer booking and car rent), and be scalable under high load during sales-off days.
Resliv engineers developed a Single Page Application with rich user-friendly UI. The solution allows users to book their flights, places of destination and rent cars – all in one place. The development included the next solutions and services:
Block Element Modifier methodology. We came to BEM development using HTML, CSS and JavaScript as this decision would provide a more structured and user-friendly UI.
Integration services. To provide the client with a scalable dynamic website, we implemented CMS that would help manage and add up-to-date information and special offers right on the site. Integrated. A wide range of APIs made the website customizable and easy to use. Our Front-end engineers added payment APIs (PayPal, Kiwi, GooglePay, ApplePay, banking processing systems), booking API for selling tickets and cross-selling of third-party services.  
Smart search & filtering features. The solution leverages booking options by providing manageable filters for passengers, flights (data, place) and the ability to choose multi-city travelling with up to 9 flights.
Website scalability. The product is able to function even at high load ensuring the same page load time, and error-free work, stable connection with the server. 
Multi-lingual. The web-site supports Russian, English, Chinese, German, Spanish and Italian languages.
B2B and B2C focused. The company, being a large airline, needed to deliver its service both to B2C and B2B clients. The requirement now delivered in the form of 4 different website's interfaces with special offers and bonuses for each group of customers, i.e. the first is for consumers, the second – for travel agencies, the third is for S7 crew and staff representatives, and the forth is for corporate clients and the last – for call-centre workers.
All in all, we presented custom ready-to-use website with fast and simple booking and manage processes from consumers' side, and abilities to add and control on-site information, prices and special offers from our client's case. Thus, giving a responsive and dynamic interface with multi-options of ticketing and reservation services.
HTML5/CSS3, JavaScript (ES6), React.js, Redux.js.